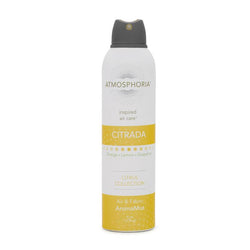 wayoutwax.com
Citrada - Citrus Collection
Citrada is a juicy citrus natural air freshener showcasing Orange, Lemon, Petitgrain, Bergamot and Grapefruit. Bright and vibrant with citrusy, green notes. 
Citruses impart an uplifting yet calm aromatic aura, and provide a familiar, crispy-sweet, expansive ambiance. 
All Atmosphoria AromaMists are all natural, plant-based aromatherapy sprays made with compressed air, essential oils, absolutes and water. Atmosphoria is formulated and manufactured by aromatherapists to contain nothing synthetic, no toxic propellants and no petrochemicals. Only pure ingredients which are safe for you and your family are found in Atmosphoria. 
Net Weight: 6 oz
Ingredients: Water, Compressed Air, Pure Essential Oils,  Botanical Extracts in Non-GMO Sugar Cane Alcohol, Vegetable Emulsifier