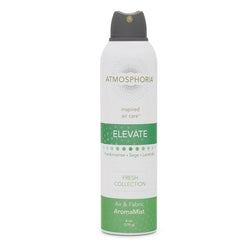 wayoutwax.com
Elevate - Fresh Collection
Elevate is an uplifting and herbal natural air freshener featuring aromatic notes of Lavender, Rosemary, Sage and Frankincense..
Elevate is part of the refined, clearing and expansive scents found in our Fresh Collection which creates exceptionally sublime scentscapes that aromatically enliven, brighten and deliver clarity wherever and whenever you need it. The Fresh Collection is ideal anytime you want to create a serene and expansive ambiance, after you've tidied your home or office, in the yoga room, or before guests arrive.
All Atmosphoria AromaMists are all natural, plant-based aromatherapy sprays made with compressed air, essential oils, absolutes and water. Atmosphoria is formulated and manufactured by aromatherapists to contain nothing synthetic, no toxic propellants and no petrochemicals. Only pure ingredients which are safe for you and your family are found in Atmosphoria. 
Net Weight: 6 oz
Ingredients: Water, Compressed Air, Pure Essential Oils,  Botanical Extracts in Non-GMO Sugar Cane Alcohol, Vegetable Emulsifier