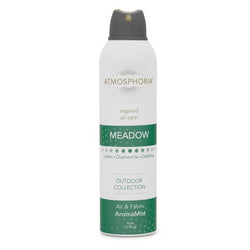 wayoutwax.com
Meadow - Outdoor Collection
Meadow is a peaceful and serene natural air freshener featuring the sweet notes of wildflowers, Linden Blossom, Chamomile, and Oakmoss.
Meadow is part of the Outdoor Collection blended to ease you into a soothed state creating the feeling of the expansive and grounded peace of nature. Every natural landscape has its own unique and serene scentscape--be it the Northern woods, the desert at sunset or a lush summer meadow buzzing with bees and butterflies.
Bring the essence of your favorite outdoor environment to any indoor space in just seconds with our Outdoor Collection.
All Atmosphoria AromaMists are all natural, plant-based aromatherapy sprays made with compressed air, essential oils, absolutes and water. Atmosphoria is formulated and manufactured by aromatherapists to contain nothing synthetic, no toxic propellants and no petrochemicals. Only pure ingredients which are safe for you and your family are found in Atmosphoria. 
Net Weight: 6 oz
Ingredients: Water, Compressed Air, Pure Essential Oils,  Botanical Extracts in Non-GMO Sugar Cane Alcohol, Vegetable Emulsifier