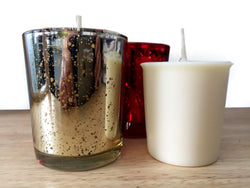 wayoutwax.com
Limited Edition Votives
Handcrafted with Palm Done Right wax, scented with 100% essential oils and an organic cotton wick.  One sparkling mercury votive glass will be included for you to burn your candles in.  We always recommend burning these votives in a fire safe container.
We are excited to offer three different blends. The first is made with a blend of eucalyptus and spearmint essential oils to uplift and brighten you space.
The second a blend of litsea, palmarosa and ylang, to help you attain a sense of softness and peace.
The third a blend of lavender and orange, one of our favorite scent combos.
Ingredients: Organic Palm Wax,  All-Natural Beeswax, Eucalyptus Essential Oil, Spearmint Essential Oil,  Organic Cotton Wick
Ingredients: Organic Palm Wax,  All-Natural Beeswax, Litsea Essential Oil, Palmarosa Essential Oil, Ylang Ylang Essential Oil,  Organic Cotton Wick
Ingredients: Organic Palm Wax,  All-Natural Beeswax,  Lavender Essential Oil, Orange Essential Oil,  Organic Cotton Wick