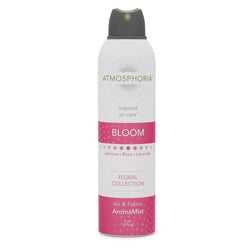 wayoutwax.com
Bloom - Floral Collection
Bloom is a sweet and floral natural air freshener featuring the aromas of Rose, Jasmine, and Lavender.  Beautiful, joyful and intoxicating, floral aromatics are known to impart a sense of  gentleness, romance and allure. This scent family reminds you to stop and smell the flowers, taking in the beauty, wonder and goodness of the world.
Great for creating an uplifting and sweet ambiance in your home, as well as freshening closets, drawers, towels, and misting your linens. 
All Atmosphoria AromaMists are all natural, plant-based aromatherapy sprays made with compressed air, essential oils, absolutes and water. Atmosphoria is formulated and manufactured by aromatherapists to contain nothing synthetic, no toxic propellants and no petrochemicals. Only pure ingredients which are safe for you and your family are found in Atmosphoria. 
Net Weight: 6 oz
Ingredients: Water, Compressed Air, Pure Essential Oils,  Botanical Extracts in Non-GMO Sugar Cane Alcohol, Vegetable Emulsifier