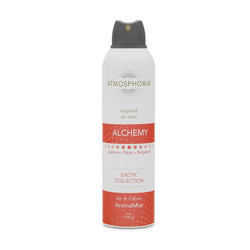 wayoutwax.com
Alchemy - Exotic Collection
Deep, expansive, sensual, earthy and floral, Alchemy is an alluring natural air freshener featuring aromas of Jasmine, Sandalwood, Tobacco, and Bergamot.  
Alchemy is part of the Atmosphoria Exotic Collection. Journey to rare and spectacular places without ever leaving home when you explore our Exotic Collection. These mesmerizing scents are blended with some of the most sought after aromas used in botanical perfumery - intoxicating Jasmine blossoms from India, deep, earthy Vetivert from Haiti, and our sweet, precious, sustainably harvested Sandalwood from Australia.
All Atmosphoria AromaMists are all natural, plant-based aromatherapy sprays made with compressed air, essential oils, absolutes and water. Atmosphoria is formulated and manufactured by aromatherapists to contain nothing synthetic, no toxic propellants and no petrochemicals. Only pure ingredients which are safe for you and your family are found in Atmosphoria. 
Net Weight: 6 oz
Ingredients: Water, Compressed Air, Pure Essential Oils,  Botanical Extracts in Non-GMO Sugar Cane Alcohol, Vegetable Emulsifier